There is no simple template labelled "How to Podcast." Some people podcast as a hobby, others as a career, most people are somewhere in between. There are thousands of aspiring podcasters trying to break through to the public. Here are some tips on how to market your podcast series.
Think Entrepreneurially
Whether you run a small independent podcast as a hobby or host a nationally known series, operate like a business. Understand your limitations as an operation. What sets your podcast apart from others? If the point of your podcast is not to earn capital, then what is it? Some creators are just looking to expand their audience, a podcast can work as a functional marketing tool for your brand.
Much like an entrepreneur, a podcaster has to manage their product, release dates, assign value, and market their product. Websites, design, booking guests, hosting platforms, and schedule are all a part of the process. The podcast landscape requires much more than talking into a microphone. 
Be Visible 
There are limitations for an audio medium. If you don't have an immediately recognizable brand or personality, there is leg work to be done introducing yourself to the public. Aside from creating content that resonates with people, there needs to be a way to connect with your listenership. The logo for your podcast is the face of your podcast, make it interesting.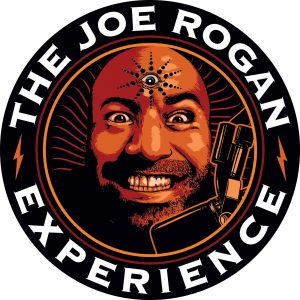 Joe Rogan's hit podcast the Joe Rogan Experience does a great job utilizing Joe Rogan's face and brand into one logo. The imagery resembles the tone of the show and attaches Joe to his show. In the event that you are not a nationally known celebrity, scroll through the iTunes Top 100 and see what sticks out! Use colors that stand out and make sure you are getting your point across! 
In the same vain, literally be visible within your community. Sign up to be in festivals, fairs, and summits. Interact with potential listeners. There is merit to the brick and mortar approach to marketing. Although your product is completely virtual, real life connections will benefit any production. 
Diversify Content
There are limitations within the audio medium. A podcast can only be found in a handful of places, whereas video content can spread through the most popular arteries of the internet. Developing video content, or creating a video podcast can help listeners and viewers get to know the production in a different light.
In this video, I'm speaking about the value that video content brought when marketing my own podcast series 2100. 
Videos, pictures, and graphics can help to build out what your audio product looks like. Diversifying content can help bring your podcast to life.
Book Interesting Guests
Guests are a major ticket to notoriety. Booking notable guests with large followings can launch your podcast series to new heights. There is no faster way to access thousands of people than having a celebrity with thousands of followers post about your show. A single retweet can take your podcast to new heights.