This weeks Podfluencer is someone that has embarked on a path as a disrupter…disrupting morning sports-talk radio! How is Kyle Scott doing it? He, along with his co-hosts Adam Lefkoe and Russell Joy are doing what others have yet to do…by doing their podcast Monday's, Wednesday's and Friday's, at 6am…and dropping it by 7:30am…for your commuting pleasure. It's brilliant. They are surely audio innovators…and the are incrementally capturing the Philly sports market via a multi-touch point platform.
Who Is Kyle Scott?
Kyle is founder of Crossing Broad, a Philadelphia sports blog known as "Philly's most irreverent sports blog", and he's been at it since 2009. The site has become the 'authoritative destination' for Philly sports lovers, attracting approximately a quarter of a million unique users each month. Crossing Broad has been credited with breaking countless local and national sports stories. It was also named Philly's best sports blog by the readers of CBS Philly.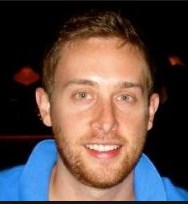 Kyle has been a regular on Great Sports Debate, which aired on Comcast SportsNet in Philly and the Comcast Network, and was a recurring contributor on SNY's Oh Yeah. He's also been a guest and contributor on FOX Philly's Good Day, CBS Sports Radio, 94 WIP, 97.5 The Fanatic, 106.7 The Fan (D.C.) and others.
Partnering with a talented duo, Adam Lefkoe of Bleacher Report and Russell Joy, they launched their podcast (currently 3 days a week) back in April, with the intention of going 5 days a week, beginning in September…just in time for Eagles season! Let's just say they are creating a formula others may soon be follow…and we love it.
Follow Kyle & Crossing Broad On Twitter
Follow Crossing Broad on Facebook
Listen To Crossing Broad Now – Take it For A Test Drive with One Click!
Kyle's Favorite Episodes
What Other Podcasts Does Kyle Listen To?
The Interview
Who has had the biggest influence on your podcasting career and why?
It's probably a bunch of tech podcasters. Tech always seems to be about 2-3 years ahead of others in terms of content, with blogs, podcasts and video. The people who know how to use those tools are the first to adopt them. Listening to a lot of tech podcasts, I've picked up that the style we're used to for sports talk radio isn't the best style for the podcasts. Once you realize that you can apply the uses seen in other categories to sports, you can actually be ahead of the curve against other sports outlets.
If there's someone, past or present, that you'd love to have an opportunity to go to dinner with, who would that be and why?
Jimmy Buffett. I'm just a big fan. However, I would've loved to have a beer with George W. Bush during his first term. Not that I support much of what he did, but he has influenced the world in many ways.
What is it, about your audience, that continues to surprise you?
That they are so receptive to new forms of communication and genuinely supportive of new and undefined efforts, even if they're not perfect.
In one word, how would your best friends describe you? Why do you think that is?
Competitive.
If you had one day, completely free, away from work, no watch on, and could do whatever the hell you wanted, what would it be and why?
Spend it with family
Check out Philly's Most Irreverent Sports Blog